The Yamato Kingdom and the Production of Symbols of Authority

Tokyo National Museum
13-9 Ueno Park, Taito-ku,
Tokyo, Japan
Jun 07, 2022 To Dec 04, 2022
Detail: From the 4th century, Chinese-style bronze mirrors were created in Japan and placed in burial mounds. These large mirrors were finely-crafted with unique designs, and, as this burial practice suggests, held special meaning in the Yamato Kingdom. Jasper, bronze, and stone copies of various ornaments were also buried in these mounds. They included distinctive hoe-shaped stone objects modeled after shell bracelets that were valued in the preceding Yayoi period. The Yamato government began creating such objects to show its political and religious authority. Moreover, certain objects, such as those made of jasper, were created with the aid of provincial clans.

Use of these objects and the construction of burial mounds for high-ranking rulers (these mounds featured stone chambers that were sealed from the top) spread from the Yamato Kingdom to the west. It is believed that provincial clans used these objects as evidence of their alliance with Yamato and as symbols of their own prestige.

The establishment and expansion of the Yamato Kingdom was also related to political developments in other East Asian countries. In China, the fall of the Western Jin dynasty ushered in the Sixteen Kingdoms period (316–420), while the three kingdoms of Korea – Goguryeo, Baekje, and Silla– began to annex neighboring regions.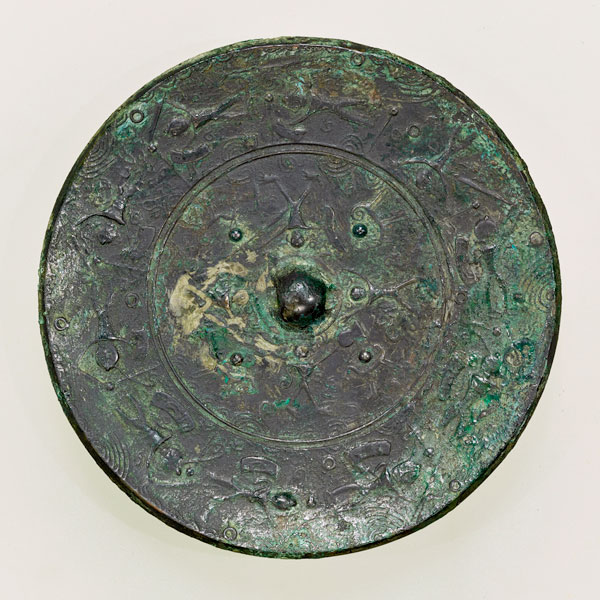 Mirror with Hunting Scenes
Reportedly found in Takasaki City, Gunma, Kofun period, 4th–5th cent