Kano Motonobu and His Age (TBC)

Suntory Museum of Art
Tokyo Midtown Galleria 3F, 9-7-4 Akasaka, Minato-ku,
Tokyo, Japan
Sep 16, 2017 To Nov 05, 2017
Detail: Kano Motonobu, establishing the Kano school, lived in the Muromachi period. He systemized and built upon the brushwork styles of famous Chinese artists to create three styles of paintings: shin-gyo-so, or formal, semi-formal, and informal. By having his students master those examples, he created a studio system that assured the training of generations of Kano-school artists and also made possible studio projects executed through teamwork. In addition to the Chinese-style ink painting that had been the forte of his father, Masanobu, Motonobu also ventured into Yamato-e territory, broadening the school's appeal and meeting a wide range of demand. This exhibition will focus on Motonobu's oeuvre and the elements that enabled the Kano school, as an organization, to expand and become a powerful presence in Japanese art.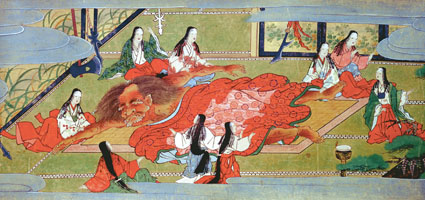 Conquest of Goblin Shutendoji (Important Cultural Property)
Kano Motonobu
Muromachi period (dated 1522)
Scroll three of three(detail)